Accelirate Announces GenAI90X: A Rapid Deployment Generative AI Integration Program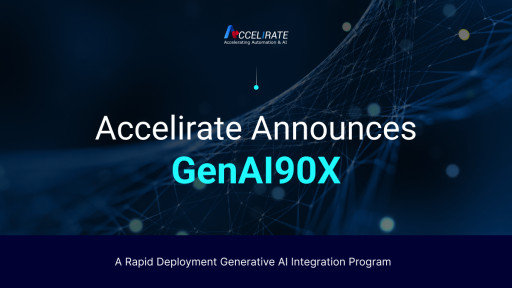 Accelirate GenAI90X
Accelirate announces latest Generative Artificial Intelligence solution called GenAI90X
SUNRISE, Fla., August 30, 2023 (Newswire.com) - Leading automation and AI service provider Accelirate is proud to announce the launch of their latest offering: GenAI90X. This innovative program provides a structured and efficient plan to integrate generative AI technology seamlessly into client systems within 90 days.
The evolution of AI has witnessed a significant interest from the business community in generative models and LLM. Recognizing this need, Accelirate has crafted GenAI90X to facilitate businesses adopting and integrating these innovative solutions, ensuring a seamless and strategic implementation.
Key Features of the GenAI90X Program include:
1. Discovery and Needs Assessment: Accelirate's AI experts will undertake a comprehensive study of the client's needs, helping them understand the best-fit generative AI solutions for their specific requirements. This also includes specific security and compliance requirements assessment.
2. Solution Design and Customization: Based on the initial assessments, customized generative AI solutions will be designed to address the unique needs and goals of the client.
3. Development and Testing: Prioritizing accuracy and functionality, Accelirate will develop and rigorously test the solution to ensure optimal performance.
4. Deployment and Support: The program promises not just a one-off integration, but an ongoing support system. Once deployed, Accelirate will provide the requisite support to ensure the AI solutions run flawlessly.
5. Training and Documentation: Empowering clients is paramount. GenAI90X includes comprehensive training sessions and detailed documentation, enabling client personnel to leverage the solution effectively.
"Generative AI is no longer just a buzzword; it's a transformative tool that's redefining the business landscape," says Accelirate Chief Revenue Officer, Matt Gallo. "Early on in the RPA days, we launched RPA90X with a tremendous success that enabled our clients to rapidly adopt and deploy RPA solutions. The launch of GenAI90X signifies our commitment to ensuring businesses harness the power of AI in the same efficient and effective manner as RPA90X."
For more information on GenAI90X or to schedule an interview with Accelirate's team, please contact [email protected].
Contact Information:
Matt Gallo
Chief Revenue Officer
[email protected]
+1 (877) 657-6006
Original Source:
Accelirate Announces GenAI90X: A Rapid Deployment Generative AI Integration Program
The post Accelirate Announces GenAI90X: A Rapid Deployment Generative AI Integration Program first appeared on Regd News.
Technology - Regd News originally published at Technology - Regd News