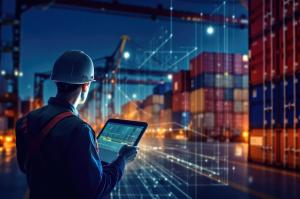 The Role of Logistics Automation Industry: Revolutionizing Supply Chain Operations
WILMINGTON, DELAWARE, UNITED STATES, October 11, 2023 /EINPresswire.com/ — Logistics automation encompasses the fusion of machinery, control systems, and software to enhance the effectiveness of logistical operations. This automation brings about enhanced efficiency, and control across various aspects of the supply chain, including recovery, customer service, distribution, inventory management, and procurement. The introduction of logistics automation stands out as a significant advancement for businesses. As per the recent market study by Allied Market Research, the global logistic automation market size is estimated to experience notable growth throughout the forecast timeframe.
𝐏𝐫𝐨𝐜𝐮𝐫𝐞 𝐂𝐨𝐦𝐩𝐥𝐞𝐭𝐞 𝐑𝐞𝐬𝐞𝐚𝐫𝐜𝐡 𝐑𝐞𝐩𝐨𝐫𝐭 @ https://www.alliedmarketresearch.com/logistics-automation-market/purchase-options
𝐀𝐮𝐭𝐨𝐦𝐚𝐭𝐞𝐝 𝐆𝐫𝐨𝐮𝐧𝐝 𝐕𝐞𝐡𝐢𝐜𝐥𝐞𝐬 (𝐀𝐆𝐕) 𝐚𝐧𝐝 𝐀𝐮𝐭𝐨𝐦𝐚𝐭𝐞𝐝 𝐌𝐨𝐛𝐢𝐥𝐞 𝐑𝐨𝐛𝐨𝐭𝐬 (𝐀𝐌𝐑) 𝐚𝐫𝐞 𝐞𝐱𝐩𝐞𝐜𝐭𝐞𝐝 𝐭𝐨 𝐫𝐢𝐬𝐞 𝐢𝐧 𝐩𝐨𝐩𝐮𝐥𝐚𝐫𝐢𝐭𝐲 𝐢𝐧 𝐭𝐡𝐞 𝐜𝐨𝐦𝐢𝐧𝐠 𝐲𝐞𝐚𝐫𝐬-
The essential usage of mobile robots is the use of AGVs (automated guided vehicles) in warehouses to transport goods. These robots work in predetermined ways by moving products around to get them to where they need to go. AGVs are important because they help reduce logistics costs and make the supply chain more efficient.
AGVs are used to fill up containers and pick them up for inbound or outbound processing. For instance, AGV moves inventory from a receiving location to a storage location or a long-term storage location to a forward-picking location to replenish inventory. The transfer of inventory from fixed storage locations to forward-picking locations ensures that sufficient stock is available for pickers, thereby streamlining the order-picking process.
Some of the vendors in the logistic automation industry are coming up with innovations and launches of AGVs and AMRs for the warehousing segment of operations, including logistics. For example, JBT introduced their warehouse freezer AGVs (automated guided vehicles) in April 2021. It can operate in temperatures ranging from -10 to 110 degrees Fahrenheit and has a 2,500-pound lift capacity. The AGV has a hydraulic mast with three stages, with a side shift and tilt. It can go up to a height of 357 inches (below the top of the fork) and down to a height of 422 inches.
Furthermore, the automotive sectors are increasing the number of production and transportation units, which suggests the utilization of AGVs and AMRs. For example, in 2022, BMW reported that it had shipped more than two and a half million automobiles to customers across the world, including those of its BMW, MINI, as well as its Rolls Royce brands, this had been a challenging year for the automotive industry, as it had affected by the lockdown, supply disruptions, due to the pandemic in China, and other external factors.
𝐑𝐞𝐪𝐮𝐞𝐬𝐭 𝐒𝐚𝐦𝐩𝐥𝐞 𝐏𝐚𝐠𝐞𝐬 𝐖𝐢𝐭𝐡 𝐋𝐚𝐭𝐞𝐬𝐭 𝐈𝐧𝐝𝐮𝐬𝐭𝐫𝐲 𝐓𝐫𝐞𝐧𝐝𝐬: https://www.alliedmarketresearch.com/request-sample/5810
𝐓𝐡𝐞 𝐑𝐢𝐬𝐢𝐧𝐠 𝐈𝐦𝐩𝐚𝐜𝐭 𝐨𝐟 𝐑𝐨𝐛𝐨𝐭𝐢𝐜𝐬 𝐚𝐧𝐝 𝐀𝐫𝐭𝐢𝐟𝐢𝐜𝐢𝐚𝐥 𝐈𝐧𝐭𝐞𝐥𝐥𝐢𝐠𝐞𝐧𝐜𝐞 𝐨𝐧 𝐋𝐨𝐠𝐢𝐬𝐭𝐢𝐜 𝐀𝐮𝐭𝐨𝐦𝐚𝐭𝐢𝐨𝐧:
Artificial intelligence (AI) and robotics are causing a transformative shift in the field of global logistics automation industry. These advanced technologies are fostering enhanced efficiency, accuracy, and swiftness across multiple facets of the logistics sector. Through the seamless integration of AI and robotics into their functions, businesses are optimizing production, minimizing errors, and improving customer service standards.
A noteworthy advantage of AI in logistics automation is its capacity to forecast demand and oversee inventory in real time. Employing machine learning algorithms, AI scrutinizes historical data, recognizing patterns to predict future demand. This predictive prowess empowers companies to fine-tune their inventory levels, mitigating the potential for stock shortages or surplus. Consequently, businesses can enhance their financial performance and curtail disturbances within the supply chain.
On the other hand, robotics is reshaping the physical handling of goods within the logistics sector. Robots are presently engaged in activities like product selection, packaging, and product categorization, tasks that typically demand human intervention. By automating these functions, companies can extensively increase their productivity and effectiveness. Furthermore, this technology heightens worker safety by minimizing the potential for injuries tied to repetitive and physically strenuous duties.
𝐌𝐚𝐤𝐞 𝐚𝐧 𝐈𝐧𝐪𝐮𝐢𝐫𝐲 𝐁𝐞𝐟𝐨𝐫𝐞 𝐁𝐮𝐲𝐢𝐧𝐠- https://www.alliedmarketresearch.com/purchase-enquiry/5810
David Correa
Allied Analytics LLP
+1 800-792-5285
email us here
Visit us on social media:
Facebook
Twitter
LinkedIn


Article originally published on www.einpresswire.com as The Role of Logistics Automation Industry: Revolutionizing Supply Chain Operations
The post The Role of Logistics Automation Industry: Revolutionizing Supply Chain Operations first appeared on Social Gov.
Global News - Social Gov originally published at Global News - Social Gov