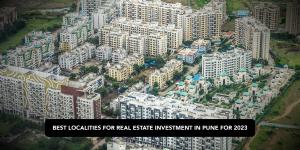 Pune's Best Real Estate Investment Picks for 2023
Real Estate Investment in Pune
Discover the top real estate investment areas in Pune for 2023. From IT hubs to peaceful locales, invest smartly for maximum returns.
PUNE, MAHARASHTRA, INDIA, April 18, 2023/EINPresswire.com/ — Pune, the bustling metropolis known for its rich history, thriving economy, and world-class education institutions, continues to be a hotbed for real estate investment opportunities. As we step into 2023, savvy investors are eagerly seeking the best localities in Pune to maximize their returns and secure their financial future. Here are some top picks for real estate investment in Pune for 2023. Kohinoor Group makes sure to develop the best real estate properties in Pune.
Here are some best locations of Pune to invest in.
Wakad: Located in the western part of Pune, Wakad has emerged as a prime locality for real estate investment. With its strategic location near the IT hubs of Hinjewadi and Baner, excellent connectivity to Mumbai-Pune Expressway and the upcoming Metro line, and a host of amenities such as shopping malls, hospitals, schools, and recreational parks, Wakad offers a promising investment opportunity. The demand for affordable and mid-range residential properties is on the rise, making it a favorable choice for both end-users and investors alike. West View Reserve by Kohinoor Group is a popular choice by a lot of people who wish to locate in Pune.
Hinjewadi: As one of the largest IT hubs in Pune, Hinjewadi has been a magnet for real estate investment. With major IT companies and MNCs setting up their operations here, the demand for quality housing has soared, making Hinjewadi a prime location for real estate investment. The area is well-connected to other parts of Pune via the Mumbai-Pune Expressway and Pune-Bangalore Highway, and offers a range of housing options from affordable apartments to premium villas, catering to diverse investment budgets. If one is in a dilemma of where to invest in Pune, here's the answer!
Kharadi: Located in the eastern part of Pune, Kharadi has emerged as a sought-after location for real estate investment. With its proximity to the EON IT Park, World Trade Center, and upcoming Navi Pune International Airport, Kharadi offers excellent investment potential. The area also boasts of well-developed social infrastructure with reputed schools, hospitals, shopping malls, and entertainment zones, making it a preferred choice for both residential and commercial investments. Top real estate projects by Kohinoor Group are situated in Kharadi to have greater proximity and variety of opportunities to live.
Baner: Known for its upscale residential properties, Baner has been a favored location for real estate investment in Pune. With its close proximity to the IT hubs of Hinjewadi and Balewadi, excellent connectivity to Mumbai-Pune Expressway, and a thriving social infrastructure, Baner offers a high-quality lifestyle and promising returns on investment. The area offers a mix of affordable and luxury housing options, making it suitable for various investment budgets.
Dhanori: If one is looking for an up-and-coming locality with good growth potential, Dhanori could be a smart choice for real estate investment. Located in the southern part of Pune, Dhanori offers affordable housing options and boasts of excellent connectivity to major IT hubs, educational institutions, and recreational facilities. The area is witnessing significant infrastructural development, including the proposed Pune Ring Road, which is expected to boost the real estate market in the coming years.
In conclusion, Pune offers a plethora of investment opportunities for discerning investors. From established IT hubs to up-and-coming locations, Pune's real estate market caters to a wide range of investment preferences. As with any investment decision, one should have a clear choice of where to invest in Pune. Kohinoor Group in Pune has spread across the city to have the best choice to live! Book your dream home with Kohinoor Group Pune.
Pratik Ghogale
Kohinoor Group
+91 82376 99669
email us here
Article originally published on www.einpresswire.com as Pune's Best Real Estate Investment Picks for 2023
The post Pune's Best Real Estate Investment Picks for 2023 first appeared on Social Gov.
Global News - Social Gov originally published at Global News - Social Gov