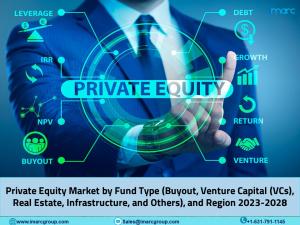 Private Equity Market Outlook 2023, Size, Demand, Trends, Companies and Forecast till 2028
Private equity market based on Buyout, Venture Capital (VCs), Real Estate, Infrastructure, region and Others. .
The report has segmented the private equity market based on Buyout, Venture Capital (VCs), Real Estate, Infrastructure, region and Others.

BROOKLYN, USA, October 11, 2023 /EINPresswire.com/ — IMARC Group, a leading market research company, has recently releases report titled "Private Equity Market by Fund Type (Buyout, Venture Capital (VCs), Real Estate, Infrastructure, and Others), and Region 2023-2028" The study provides a detailed analysis of the industry, including the private equity market outlook,  share, size, trends, and growth forecasts. The report also includes competitor and regional analysis and highlights the latest advancements in the market.
Private Equity Market Size and Outlook 2023:
The global private equity market size reached US$ 655 Billion in 2022. Looking forward, IMARC Group expects the market to reach US$ 1,179 Billion by 2028, exhibiting a growth rate (CAGR) of 10.1% during 2023-2028.
What is private equity?
Private equity refers to the provision of capital to firms and enterprises that are not publicly traded, with the aim of acquiring, funding growth, or facilitating the restructuring of these entities. These specialized investments offer the advantage of high returns and strategic transformation, making them an attractive asset class for discerning investors. Characteristically, private equity comes in a multitude of structures to suit different investment objectives and risk profiles.
From venture capital and buyouts to distressed assets and mezzanine financing, the options are diverse. Some private equity firms also feature specialized expertise in sectors like technology, healthcare, or retail for targeted investments. A defining feature of private equity is its long-term orientation; investment horizons typically span years, requiring careful planning, due diligence, and active governance.
Request to Get the Sample Report: https://www.imarcgroup.com/private-equity-market/requestsample
Private Equity Market Growth Factors and Trends: 
The burgeoning interest in alternative investments represents one of the key factors driving the market growth of private equity. In addition to this, the accumulation of "dry powder" or committed but unspent capital, coupled with low-interest rates, is propelling market growth. Besides this, the shift in investor sentiment toward assets with potentially high returns and low correlation to traditional financial markets is contributing positively to the sector.
Apart from this, modern investment strategies, which often favor diversification and active portfolio management, are facilitating the growth of the private equity market. Coupled with this, the increasing interest in start-ups and innovative companies, partially fueled by media attention, is encouraging investors to explore private equity as a way to gain exposure to high-growth opportunities.
Other factors such as high net-worth individual (HNWI) participation, a variety of applications beyond straightforward equity investments like in real assets and secondary markets, and the advent of advisory firms focusing on private equity, are collectively driving the growth of the private equity market globally.
Who are the key players operating in the industry?
Private Equity Companies: 
• AHAM Asset Management Berhad
• Allens
• Apollo Global Management, Inc.
• Bain and Co. Inc.
• Bank of America Corp.
• BDO Australia
• Blackstone Inc.
• CVC Capital Partners
• Ernst and Young Global Ltd.
• HSBC Holdings Plc
• Morgan Stanley
• The Carlyle Group
• Warburg Pincus LLC
Market Segmentation: 
The report has segmented the market into the following categories:
Breakup by Fund Type:
• Buyout
• Venture Capital (VCs)
• Real Estate
• Infrastructure
• Others
Breakup by Region:
• North America
• Asia Pacific
• Europe
• Latin America
• Middle East and Africa
Year-End Discount Available Now, Buy Full Report: https://www.imarcgroup.com/checkout?id=8078&method=298
Key Highlights of the Report:
• Market Performance (2017-2022)
• Market Outlook (2023-2028)
• Market Trends
• Market Drivers and Success Factors
• Impact of COVID-19
• Value Chain Analysis
• Comprehensive mapping of the competitive landscape
If you require any specific information that is not covered currently within the scope of the report, we will provide the same as a part of the customization.
About Us
IMARC Group is a leading market research company that offers management strategy and market research worldwide. We partner with clients in all sectors and regions to identify their highest-value opportunities, address their most critical challenges, and transform their businesses.
IMARC Group's information products include major market, scientific, economic and technological developments for business leaders in pharmaceutical, industrial, and high technology organizations. Market forecasts and industry analysis for biotechnology, advanced materials, pharmaceuticals, food and beverage, travel and tourism, nanotechnology and novel processing methods are at the top of the company's expertise.
Our offerings include comprehensive market intelligence in the form of research reports, production cost reports, feasibility studies, and consulting services. Our team, which includes experienced researchers and analysts from various industries, is dedicated to providing high-quality data and insights to our clientele, ranging from small and medium businesses to Fortune 1000 corporations.
Elena Anderson
IMARC Services Private Limited
+1 631-791-1145
email us here
Article originally published on www.einpresswire.com as Private Equity Market Outlook 2023, Size, Demand, Trends, Companies and Forecast till 2028
The post Private Equity Market Outlook 2023, Size, Demand, Trends, Companies and Forecast till 2028 first appeared on Social Gov.
Global News - Social Gov originally published at Global News - Social Gov