MicroAge Achieves CRN Triple Crown Status, an Award Recognition of Exceptional IT Market Leadership
Award Celebrates Standout Solution Providers for the Impressive Accomplishment of Being Featured on Three of CRN's 2023 Prestigious Lists: Solution Provider 500, Fast Growth 150 and Tech Elite 250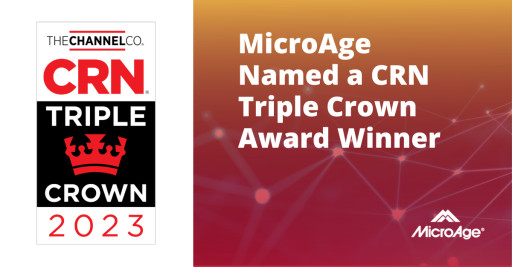 MicroAge CRN Triple Crown Award
MicroAge Achieves CRN Triple Crown Status
PHOENIX, October 11, 2023 (Newswire.com) - MicroAge®, The Digital Transformation Experts®, announced that CRN, a brand of The Channel Company, has named MicroAge a 2023 Triple Crown Award winner. This award celebrates standout solution providers for the impressive accomplishment of being featured on three of CRN's prestigious lists.
For 10 consecutive years, the Triple Crown Award has accredited unparalleled performance from top solution providers in North America based on revenue, growth, and technical expertise within the IT channel.
The recipients of the CRN Triple Crown Award are recognized for their remarkable accomplishment of securing a position on three distinguished lists in the same year. These lists include the Solution Provider 500, which ranks the largest IT solution providers in North America based on revenue; the Fast Growth 150, which ranks the fastest-growing organizations in the channel; and the Tech Elite 250, which acknowledges the attainment of the highest-level certifications from leading vendors in the industry. While each list is a noteworthy achievement, being featured on all three in a single year is a testament to exceptional service and warrants special acknowledgment from the entire channel community.
"MicroAge is honored to be a CRN Triple Crown Award winner, which represents our ongoing effort to stay at the forefront of our industry by providing our clients with best-in-class, innovative IT solutions and services that address their unique technology challenges," said MicroAge CEO Rob Zack. "This recognition is a testament to the hard work, passion, and commitment of our entire team in consistently delivering client success."
Jennifer Follett, Vice President, U.S. Content, Executive Editor, CRN, at The Channel Company, expressed her excitement and congratulations to the top solution providers who have achieved the prestigious Triple Crown Award. "These providers have not only demonstrated exceptional revenue growth in North America but have also surpassed many other channel organizations in terms of their progress. They have successfully maintained and enhanced their technical skills, resulting in the highest level of service in the IT channel." Follett emphasized that "this award represents the pinnacle of honor, recognizing truly extraordinary solution providers who consistently exceed expectations in their contributions to the channel and the industry's future through their unwavering dedication and expertise."
This year's Triple Crown Award winners will be featured in the October 2023 issue of CRN and online at www.crn.com/triplecrown.
Contact Information:
Andrea Hill
Director of Communications & Brand Management
[email protected]
480-366-2468
Original Source:
MicroAge Achieves CRN Triple Crown Status, an Award Recognition of Exceptional IT Market Leadership
The post MicroAge Achieves CRN Triple Crown Status, an Award Recognition of Exceptional IT Market Leadership first appeared on Regd News.
Technology - Regd News originally published at Technology - Regd News