Infegy Unveils Infegy Starscape
A New Day in Social Listening and Data Analysis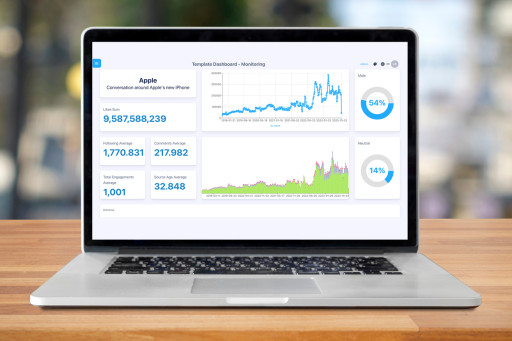 Infegy Starscape dashboard
Dashboard of Apple-related conversations on an Apple-looking laptop
KANSAS CITY, Mo., November 3, 2023 (Newswire.com) - Infegy, a leading innovator in social listening and analytics, is thrilled to announce its groundbreaking new platform, Infegy Starscape. Infegy Starscape is set to redefine the landscape of social data analysis, enabling businesses to extract powerful insights with unprecedented ease and versatility.
"Our vision for data analysis is clear with Infegy Starscape. It's a platform that embraces innovation and accessibility, ensuring everyone can access the insights that shape their business's future," states founder and CEO, Justin Graves.
It empowers users to delve into complex data queries without requiring prior experience with Boolean query logic. The innovative drag-and-drop visual query builder, a hallmark feature of Infegy Starscape, allows individuals to seamlessly combine multiple data fields and construct intricate queries for analysis – regardless of their level of expertise.
One of the standout features of Infegy Starscape is its ability to create fully customized dashboards that empower users to design dashboards tailored to their specific needs. This flexibility extends to mixing different data results and incorporating a wide range of visualizations, from word clusters and sentiment analysis to audience breakdowns in a single dashboard work product.
The new Infegy Starscape platform eliminates the complexities of sharing reports by enabling seamless access for internal and external teams. Users can now easily share dashboards, offering transparency through the ability to review underlying queries. In addition, Infegy introduces versatile seat options, including "View Only," "Quick Search," and "Analyst" seats, making data insights accessible to all regardless of their specific needs. The new admin panel enhances security by providing precise control over dashboard access, ensuring the confidentiality of custom datasets. Infegy's mission is to democratize data access while maintaining data integrity.
In conclusion, Infegy Starscape is a game-changer in social data analytics. It preserves the speed and quality associated with Infegy Atlas while enhancing the overall user experience, making it easier for individuals and teams to accelerate the time to actionable insights. Infegy Starscape is currently available in early access, and Infegy invites businesses to schedule a customized demo to explore this revolutionary platform.
Contact Information:
Aaron McKee
Chief Revenue Officer
[email protected]
Original Source:
Infegy Unveils Infegy Starscape
The post Infegy Unveils Infegy Starscape first appeared on Regd News.
Technology - Regd News originally published at Technology - Regd News