ScalePad Acquires Lifecycle Insights
ScalePad Expands IT Asset Management, vCIO, and Customer Success Offerings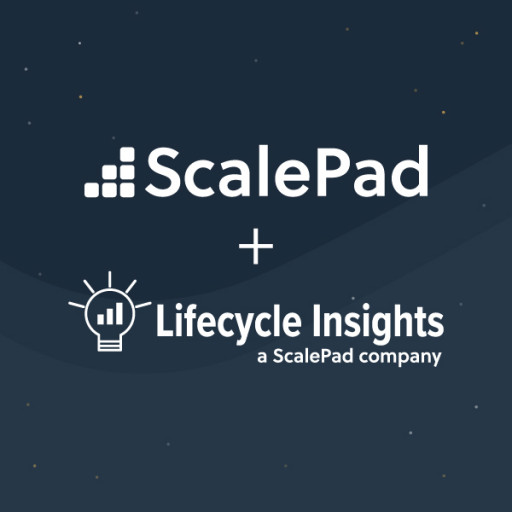 Lifecycle Insights a ScalePad company
The acquisition of Lifecycle Insights marks the third acquisition by ScalePad in 2023.
VANCOUVER, British Columbia, April 6, 2023 (Newswire.com) - ScalePad, the premier provider of solutions Managed Service Providers (MSPs) use to effectively manage their clients' infrastructure and improve their internal operations, today announces the acquisition of Lifecycle Insights, furthering its commitment to enhancing client engagement for MSPs with additional quarterly business review (QBR), customer success, and vCIO capabilities. The acquisition of Lifecycle Insights marks the third acquisition by ScalePad in 2023, including Cognition360 and ControlMap, following the acquisition of Backup Radar in late 2021.
Lifecycle Insights helps MSPs deliver better QBRs to their customers. The assessment platform, asset and user inventories, and total cost of ownership budgets allow for insightful reporting based on client risks and goals. The Customer Success module allows leaders, vCIOs, CSMs, and Account Managers to gain insights into customer segmentation, health, and stack alignment.
"The addition of Lifecycle Insights to our offerings enhances our partners' ability to build stronger client relationships," said Dan Wensley, CEO of ScalePad. "Lifecycle Insights' capabilities complement those of ScalePad Lifecycle Manager, which includes Initiatives, Scorecards, Roadmaps, and our recently launched IT Asset Disposal and Workstation Assurance services. This acquisition reinforces our commitment to providing our partners with a comprehensive platform to manage their clients. We are excited to welcome the Lifecycle Insights team to the ScalePad family."
"We are thrilled to join forces with ScalePad and become a part of their comprehensive suite of applications for MSPs," said Marnie Stockman, CEO of Lifecycle Insights. "The combination of our powerful vCIO and QBR capabilities, along with ScalePad's core platform and Services Marketplace, will provide tremendous value to our mutual partners. We are excited to be a part of ScalePad's growth and share their vision for the future. We will continue to provide strategic direction to the products and look forward to accelerating our solution set to help MSPs thrive."
"Many of our shared partners have realized the value and impact these two solutions deliver when combined. All of our partners now have the opportunity to leverage the cumulative value of both applications for a reduced total investment," said Wensley. "We are aligning our roadmaps to ensure we are developing complementary feature sets with the goal of eventually unifying both Lifecycle Insights and Lifecycle Manager into one comprehensive, modular solution. We will also be working towards integrating Lifecycle Insights with our entire ecosystem of apps, including ScalePad Services Marketplace, Backup Radar, ControlMap, and Cognition360."
About Lifecycle Insights:
Lifecycle Insights is a leading provider of a vCIO reporting tool, risk assessments, and asset lifecycle management solutions for managed service providers (MSPs). With over 1,000+ MSPs served globally, Lifecycle Insights helps MSPs to streamline their business reviews and build projects to address risk and needs. The company's solutions allow MSPs to deliver real-time, executive-friendly reports to their clients, consolidate warranty look-ups, and link risk assessments and assets to build projects, roadmaps, and budget forecasts.
About ScalePad:
ScalePad partners with MSPs to deliver the masterful IT experience that clients expect. ScalePad's innovative asset lifecycle management, business intelligence & analytics, business continuity & disaster recovery, and governance, risk & compliance solutions surface hidden risks and actionable opportunities, delivering automated analysis and insights that improve service delivery.
ScalePad has received recognition and awards in various categories, including DattoCon Best Revenue Opportunity, SMB Best Revenue Model, and SMB Channel Allstar. In 2022, ScalePad was listed as a top-growing company on Deloitte's Technology Fast 50 list and received certification with Great Place to Work

.
Media Contact:
Brittany Thibaudeau
[email protected]
(604) 334-8986
www.ScalePad.com/news
Contact Information:
Brittany Thibaudeau
Communications Specialist
[email protected]
(604) 334-8986
Original Source:
ScalePad Acquires Lifecycle Insights
The post ScalePad Acquires Lifecycle Insights first appeared on Regd News.
Technology - Regd News originally published at Technology - Regd News